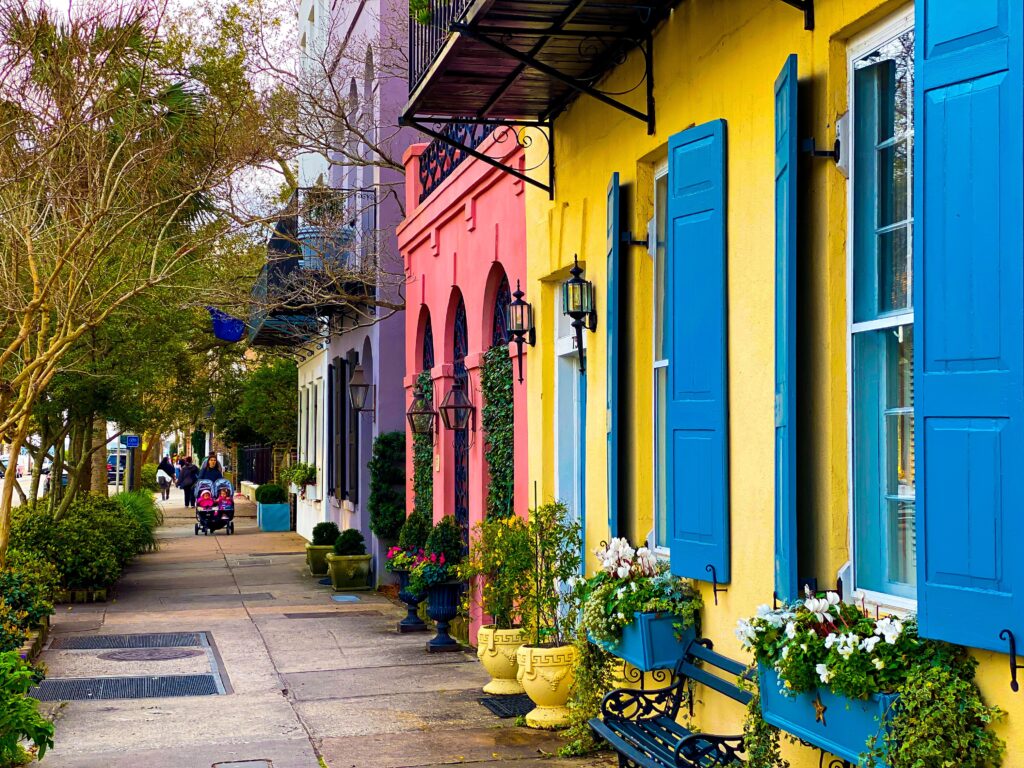 Welcome to Charleston!
The Medical University of South Carolina (MUSC) looks forward to welcoming you to Charleston, South Carolina, for this year's annual meeting of the Council for Programs in Technical and Scientific Communication on September 22-23, 2023.
Charleston is consistently ranked among the top places in the country to live, retire, and visit. Downtown Charleston is a scenic peninsula surrounded by the Cooper and Ashley Rivers leading to the Charleston Harbor of the Atlantic Ocean near the famous Battery. The city is known and appreciated for its fine dining, picturesque architecture, coastal arts scene, beautiful beaches and parks, and its roles in American history and civil rights. There is truly something for everyone to enjoy outside of conference hours.
More About Our Host University
The conference will be held at MUSC's main campus in downtown Charleston (171 Ashley Avenue, Charleston, SC, 29425 – see PDF of a campus map here and interactive virtual campus map here). The newly renovated Colbert Education Center and Library (the white building to the lower right side of the picture) will serve as the central location for meeting spaces and networking. The building is named for Stephen Colbert's father, James W. Colbert, who was MUSC's first Provost.
Founded in 1824, MUSC was one of the first medical universities and hospitals in the country, with a long history of medical practice, teaching, and even civil rights. As a stand-alone, predominately graduate-level academic medical center, MUSC educates more than 3,000 students and more than 850 residents per year across six colleges of medicine, dentistry, nursing, health professions, pharmacy, and graduate studies.
The Center for Academic Excellence (CAE) & Writing Center is staffed by 7 Ph.D.-trained faculty who support students across all colleges and programs. In addition, students take coursework in science writing, grant writing, health humanities, community internships, research capstones, and will soon be able to earn Science Writing digital badges from the College of Graduate Studies.
Given the CFP about recognition, connection, professional practice, and partnering with industry, it is fitting to hold CPTSC here at MUSC, where students and faculty are engaged every day in the real-world application of technical, scientific, and professional communication to advance scientific understanding, health communication, and clinical healthcare.
Travel Planning and Accommodations
Charleston is a popular tourist destination with an international airport and multiple modes of ground transportation, from car rentals and ride shares to public transit, downtown pedicabs, and bike rentals.
AIR TRAVEL
Charleston International Airport is located in North Charleston, about 12 miles from downtown Charleston. Charleston is a major tourist destination, which means there should be flights available from almost any national or regional airport.

For a list of non-stop destinations, see: https://www.iflychs.com/NonstopDestinations.
Airlines serving the Charleston International Airport include:
Alaska, Allegiant, American Airlines, Avelo, Breeze, Delta, Frontier, jetBlue, Silver, Southwest, Spirit, Sun Country Airlines, and United.
GROUND TRANSPORTATION
Ride Shares (Lyft, Uber)
Depending on your hotel, ride shares may be the most viable option to get from the airport to your lodging.
Public Transit
CARTA is the regional transportation authority running busses and shuttles.
Google Maps/Transit can also help plan public transit.
There is one bus that travels between the airport and downtown: https://www.ridecarta.com/route/11-dorchester-road-airport/

In addition, many hotels offer an airport shuttle service, so consider that when booking and follow up directly with your chosen hotel.
Rental Cars and Turo
Rental cars are available from the airport and other locations around town. For more information, visit https://www.iflychs.com/RentalCars. Visitors are also welcome to consider peer-to-peer car sharing apps such as Turo (http://turo.com) for their rental needs.
Pedicabs
Once downtown, Charleston Pedicab (https://pedicabcharleston.com/services/) and Bike Taxi (https://biketaxi.net/) are options for getting around to food and sightseeing.
E-Bike and E-Scooter Rentals
Charleston has numerous sites for Lime e-bike and e-scooter rentals, including right next to the MUSC campus at 30 Bee Street, Charleston, SC 29403.
Lime is a phone app at: https://www.li.me/locations/charleston
Parking
For those who drive to Charleston or rent a car, there are paid parking garages and metered street parking next to the university.
President Street Parking Garage
Address: 91 President Street, Charleston, SC, 29425
Red lines in the image below show two routes from the parking garage (red circle, upper left) to the CPTSC conference building at 171 Ashley Avenue (red circle, lower right). The distance is approximately 1/2 mile.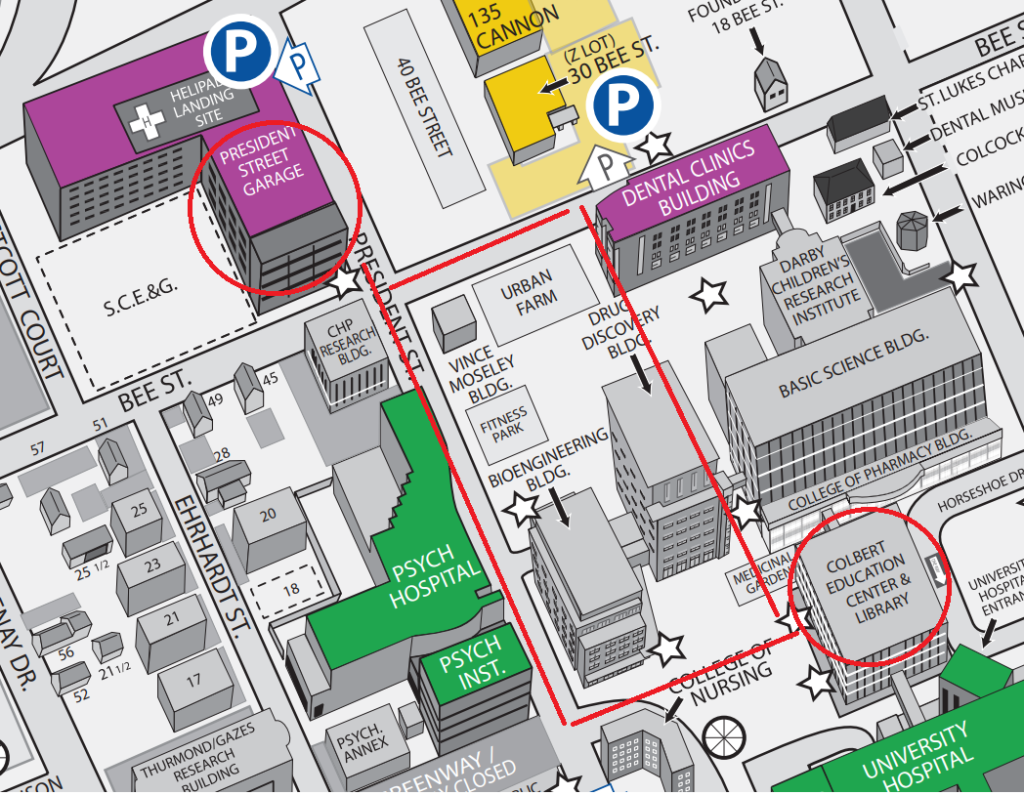 HOTEL ACCOMMODATIONS
Discounted Group Hotel Rates (pending)
NOTE: We are currently working on negotiating a discounted rate for a block of hotel rooms and will publicize these on the listserv and here on the site during March.
Closest and Most Affordable (~1/2 mile from CPTSC)
The closest and most affordable hotel about 1/2 mile from the university is Comfort Inn Downtown Charleston (144 Bee Street, Charleston, SC, 29401).
Those on a budget might consider nearby AirBNB or hostels. One such hostel, NotSo Hostel, is located about 1/2 mile from the conference building.

Lodging <1 Mile from CPTSC
Other nearby downtown hotels include Holiday Inn Express, Marriott, Courtyard by Marriott, and the Hilton Garden Inn. Each of these is within less than a one-mile walk from the conference building.
Lodging < 2 Miles from CPTSC
There are a few nearby (~2 miles) options over the bridge to West Ashley, as well, including La Quinta Charleston Riverview, SpringHill Suites by Marriott Charleston Riverview, Residence Inn Charleston Riverview, and Cambria Hotel Charleston Riverview.
Other Lodging Locations
Although there are countless hotels downtown, this is also the most popular tourist area of the city, so don't be afraid to look at more affordable hotel options in West Ashley, Mount Pleasant, or North Charleston, each of which will be more affordable without getting too far from downtown.
Dining Options
SUGGESTED LOCAL DINING
Breakfast/Coffee
On conference days, there are numerous coffee and light breakfast spots in the area. These include two Starbucks stores on/near campus, a PJ's coffee in the Colbert Education Center and Library, and other local cafes within a short walking distance, such as Bottleneck Coffee food truck on the campus greenway and 132 Spring Coffee & Kitchen Bar a couple of blocks from campus. A little further down the street is Babas on Cannon, which is a neighborhood favorite for their house-made peanut milk lattes.
Friday Lunch
There will be numerous food trucks on campus for the Friday lunch break. View the Greenway Food Truck schedule here. The university's main cafeteria is next to the conference building and includes multiple stations with refrigerated (packaged) or freshly prepared hot meals, including pizza and a Chick-Fil-A, as well as sushi and vegan salads.
There are also numerous restaurants within walking distance on Spring Street, Cannon Street, Rutledge Avenue, and Ashley Avenue (<1 mile walks). These include Bon Banh Mi (Southeastern Asian sandwiches and bowls) and Fuel Cantina (Caribbean fusion). A longer list of nearby lunch restaurants will be provided in advance of the meeting.
Dinner
Charleston is a foodie's paradise, with numerous dinner options for any dietary preference or taste downtown. However, restaurants do fill up, so it is recommended to plan sit-down restaurant reservations in advance to avoid long waits or restaurant hopping to find a seat. Many local restaurants use the Resy app or Open Table. A longer list of nearby suggested restaurants will be provided in advance of the meeting.
There are numerous restaurants within walking distance on Spring Street, Cannon Street, Rutledge Avenue, and Ashley Avenue (<1 mile walks). There are also locally and nationally famous restaurants within a longer walk/short ride along King Street, Meeting Street, East Bay Street, and in the Charleston Historic District.
Bars and Breweries
For those who are inclined to partake of nightlife or the local brewery scene, there are numerous options in walking distance on King Street and Meeting Street in the downtown area, as well as short Uber rides to breweries in North Charleston, West Ashley, and Mount Pleasant.
Nearby Grocery and Convenience Stores
Publix Grocery Store – 10 Westedge Street, ~ 1 mile from MUSC
Charlie's On Spring – 119 Spring Street #4~ 1 mile from MUSC
Walgreens – 261 Calhoun Street ~ 1/2 mile from MUSC
Nearby Evening or Sunday Activities
DOWNTOWN VICINITY (<2.5 miles)
MEDIUM DISTANCE ACTIVITIES (<5 miles)
LONGER-DISTANCE ACTIVITIES (10+ miles)